Current Project
CTC2107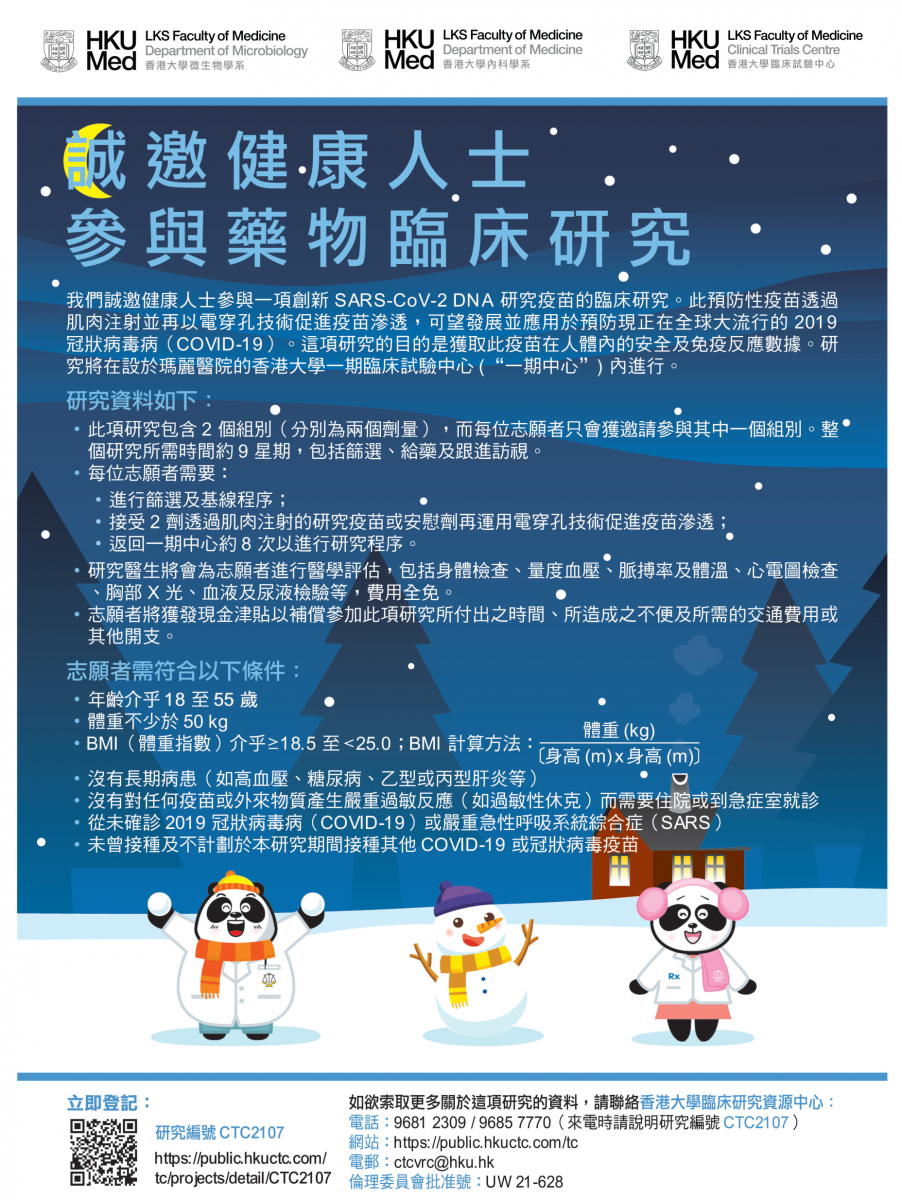 Join
A Sincere Invitation to Healthy Volunteers to Participate in a Clinical Study
We sincerely invite healthy volunteers to join a clinical study of a novel and investigational SARS-CoV-2 DNA vaccine, which is delivered intramuscularly followed by electroporation to enhance vaccine penetration. It is being studied as a potential prophylactic vaccine for current pandemic disease COVID-19. The purpose of this clinical study is to investigate the safety and immunogenicity profile of this vaccine candidate in human. The study will be conducted in the HKU Phase 1 Clinical Trials Centre ("Phase 1 Centre"), which is located in Queen Mary Hospital.
Study Information:
This clinical study consists of 2 cohorts (at two dose levels), and each volunteer will only be invited to join either one cohort. The duration of the entire study is around nine (9) weeks, including screening, dosing and follow up visits.
Volunteers will be required to:

perform screening procedures and baseline procedures;
receive two (2) doses of investigational vaccine or placebo, delivered intramuscularly followed by electroporation to enhance vaccine penetration;
return to Phase 1 Centre approximately eight (8) times for conducting study procedures.

Study doctors will perform medical assessments, including physical examinations, blood pressure, pulse rate, body temperature, ECG assessment, chest x-ray and blood and urine tests etc., for volunteers at no cost.
Cash allowance will be offered to volunteers to compensate for time spent, any inconvenience caused, and for covering transportation costs or other expenses which may incur.
Volunteers should meet the following criteria:
Aged between 18 and 55 years, inclusive
Weigh no less than 50 kg
BMI (Body Mass Index) ≥ 18.5 and < 25.0; BMI calculation: Weight (kg) / [Height (m) x Height (m)]
No chronic disease (e.g. hypertension, diabetes mellitus, hepatitis B, hepatitis C etc.)
No severe allergic reaction (e.g. anaphylaxis) to any vaccine or substance which requires hospitalization or emergency medical care
No history of COVID-19 or SARS infection
No plan to receive other COVID-19 or coronavirus vaccine prior to participation in and throughout the study
For enquiry, please contact our Volunteer Resource Centre:
Telephone: 9681 2309 / 9685 7770 (please quote the study number CTC2107)
Web: https://public.hkuctc.com/en
Email: ctcvrc@hku.hk
IRB No.: UW 21-628
Study Timetable:
The study timetable is yet to be confirmed. If you are interested in taking part, please click the "Join" button for registration first. We would provide the study date update to you once available.